Poll finds decision-makers "clearly behind" public opinion
The public has a fairly liberal attitude towards "soft drugs" and perceives cannabis as less harmful than tobacco or alcohol. Twice as many British adults now support the legalization of cannabis than they oppose, according to a poll revealing a "growing gap" between public opinion and drug law.
Investigation YouGov found 48% of voters in favor of legalizing recreational use, up five points from last year; only 24% opposed it.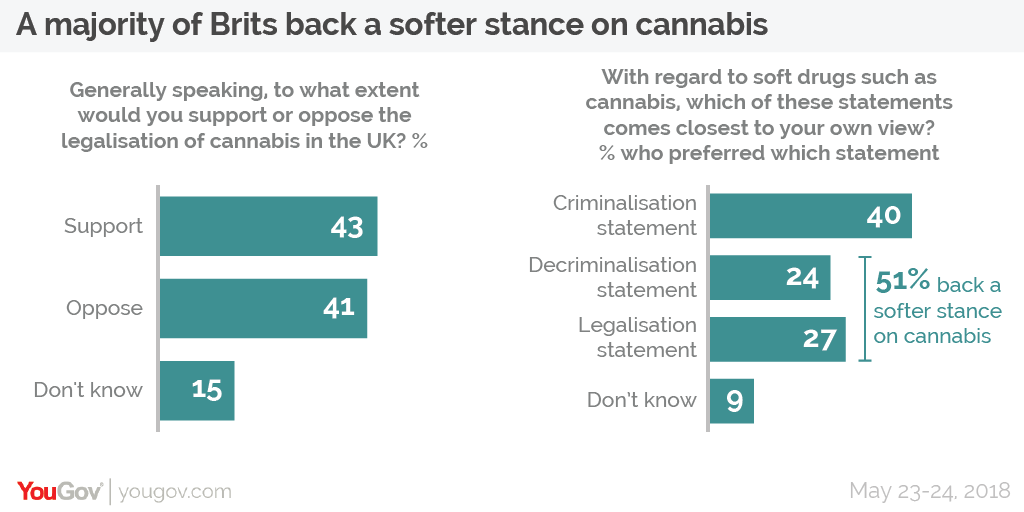 Support for medical cannabis was even stronger, with 77% of respondents saying it should be allowed. A similar proportion of those polled said they would consider using cannabis treatments if there was strong evidence that it would benefit them.
Perhaps one of the reasons the public is saying this is because they don't believe cannabis is so harmful in the first place. Just over six in ten (62%) think the substance is harmful to people who take it regularly, with a quarter (25%) rating it as "very" harmful.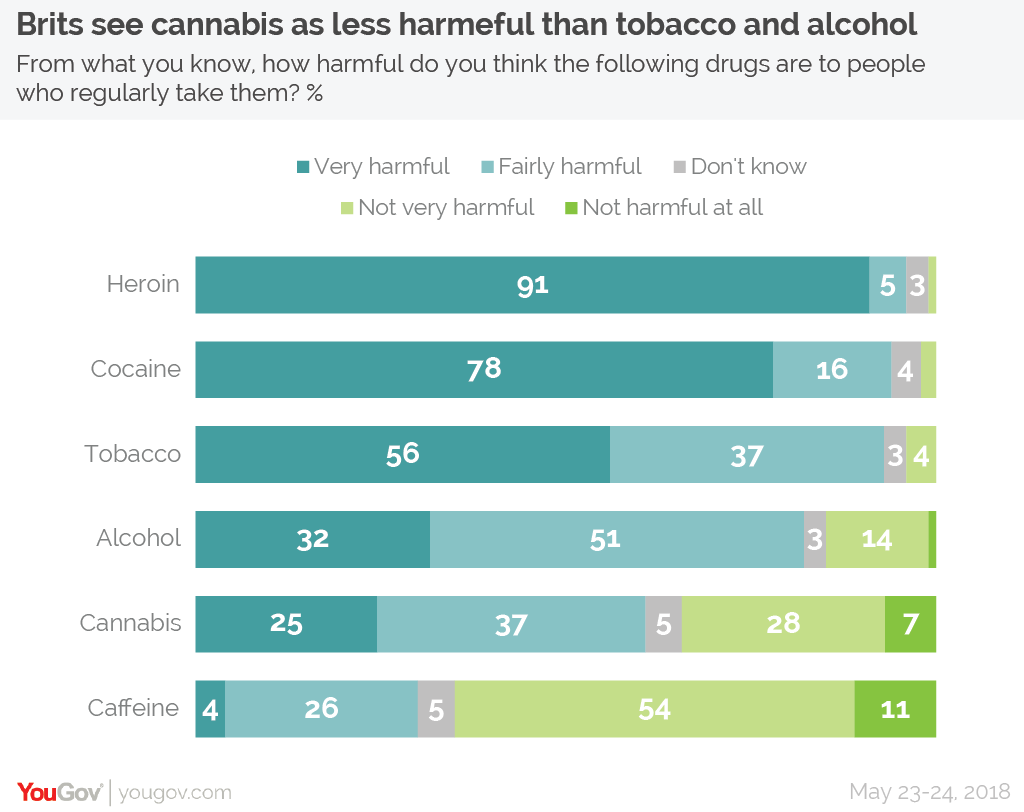 More than nine in ten people (93%) believe that tobacco is harmful and a majority (56%) consider it "very" harmful. Although alcohol is doing better (the figures being 83% and 32% respectively), it is still considered to be more damaging than cannabis.
The Conservative Group on Drug Policy Reform (CDPRG), which commissioned the poll, said the results indicated "A growing appetite for a new approach to drug policy in the UK".
"This poll shows that government and politicians are way behind the public's thinking," he said. declared Rob Wilson, Group CEO and former Conservative Minister of Civil Society.
He added, "This illustrates the growing gap between widespread, decades-old ban policies and the growing attitude of millions of voters ready to apply new approaches focused on improving risk reduction, damage and health care outcomes. "
The results were obtained after the government legalized certain cannabis-based drugs last November, giving medical specialists the power to prescribe.
In general, the public has a more nuanced attitude towards soft drugs. Therefore, taking a more liberal stance may not receive the backlash feared by many politicians.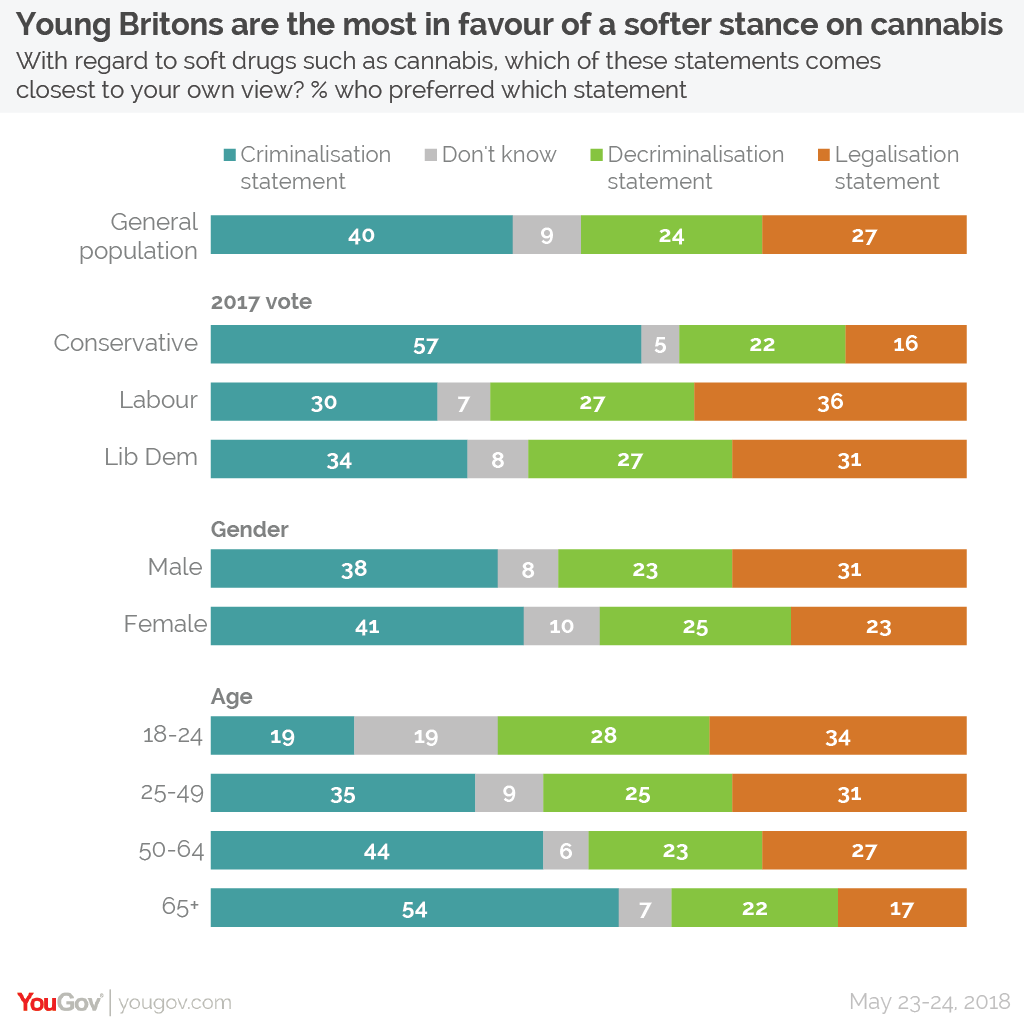 Despite this, virtually no NHS (public health system) orders have been issued to date, leaving expensive private prescriptions far beyond the reach of most families.
Just under a quarter of the 1690 people polled in the survey believe that patients who have been prescribed cannabis by their doctor should be allowed to grow their own plants, with 22% believing that anyone should be allowed to self-grow.
Support for legalizing cannabis was strongest among young people and people living in London, where 56% supported the change. 52% of participants aged 18 to 49 in the country are in favor of recreational legalization.
69% of those polled said the government was fighting to tackle the UK drug problem, with seven in 10 respondents believing the current ban policy was failing to reduce the damage.
53% felt that drug use should be considered a health problem and should be addressed through harm reduction strategies rather than prohibition, which more than three quarters said was not a deterrent effective.
The results of this survey demonstrate the urgent need for policymakers and government to begin rethinking drug policy through open, fully informed and evidence-based debate.
The CDPRG was started last month by Mr Wilson and Conservative MP Crispin Blunt, who called for cannabis to be legalized within five years. The group was created to lobby for a "clear and comprehensive review of drug policy".
Mike Barton, the former Durham Police Chief, said, "We just can't get ourselves out of drug problems. Many of us in law enforcement have been calling for a long time a public health approach to drugs.
"These polls show that the British public recognizes that prohibition is not the solution to drug problems. A public health approach could reduce harm to users and free up police resources to fight serious crime. "
Full results of YouGov survey