Manipur Chief Minister Nongthombam Biren Singh said his government plans to legalize cannabis as part of its "Start-up Manipur" campaign.
The minister has declared at a press conference on Saturday that preparations are underway to discuss the issue and make a decision at the next cabinet meeting. He said that the cultivation of the plant must be done so that it can be used strictly for medicinal purposes.
He indicated that three states of Arunachal Pradesh, Uttarakhand and Uttar Pradesh have already legalized cannabis for medical purposes.
To ensure the success of this plan, he sought support from citizens, intellectuals, civil society organizations and the state media. "We are the only ones able to make Manipur an economically and socially advanced state," he added.
Cannabis and tax revenues
Biren Singh said the state's tax revenues have increased sharply from 587 rupees to 2016-17 to more than 1000 rupees to 2018-19. He also said that Manipur's gross domestic product doubled from 4% in 2016-17 to 8% in 2018-19.
Stating that figures show that under the current government, there is economic growth in the state, Biren Singh said such a pace of development and growth would turn Manipur into an advanced state in the near future.
The legalization of cannabis for medical purposes is part of this economic plan.
"The oil extracted from cannabis is known to be useful for strengthening nerves and treating people with paralysis. In addition, the legalization of cannabis can stimulate the economy, "said Biren Singh.
He also informed that a new program called "Stand-up Manipur" would be set up to provide low-rate loans to entrepreneurs belonging to the categories of Scheduled Castes, Scheduled Tribes, Disadvantaged and Other Minorities in the State.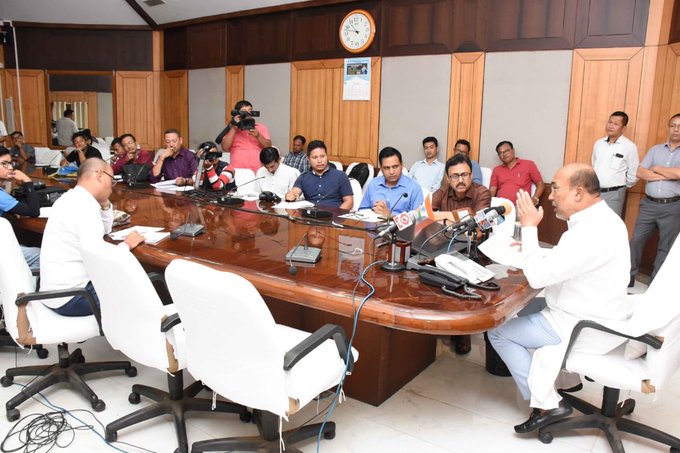 The coalition government led by the Bharatiya Janata party, led by Chief Minister Nongthombam Biren Singh, has been promoting "Start-up Manipur" since August 2018. The second part of this promotional campaign started the September 20
After the first part of this campaign, the state government would have identified 334 eligible entrepreneurs for financial assistance. Among them, 29 were considered to have high potential.